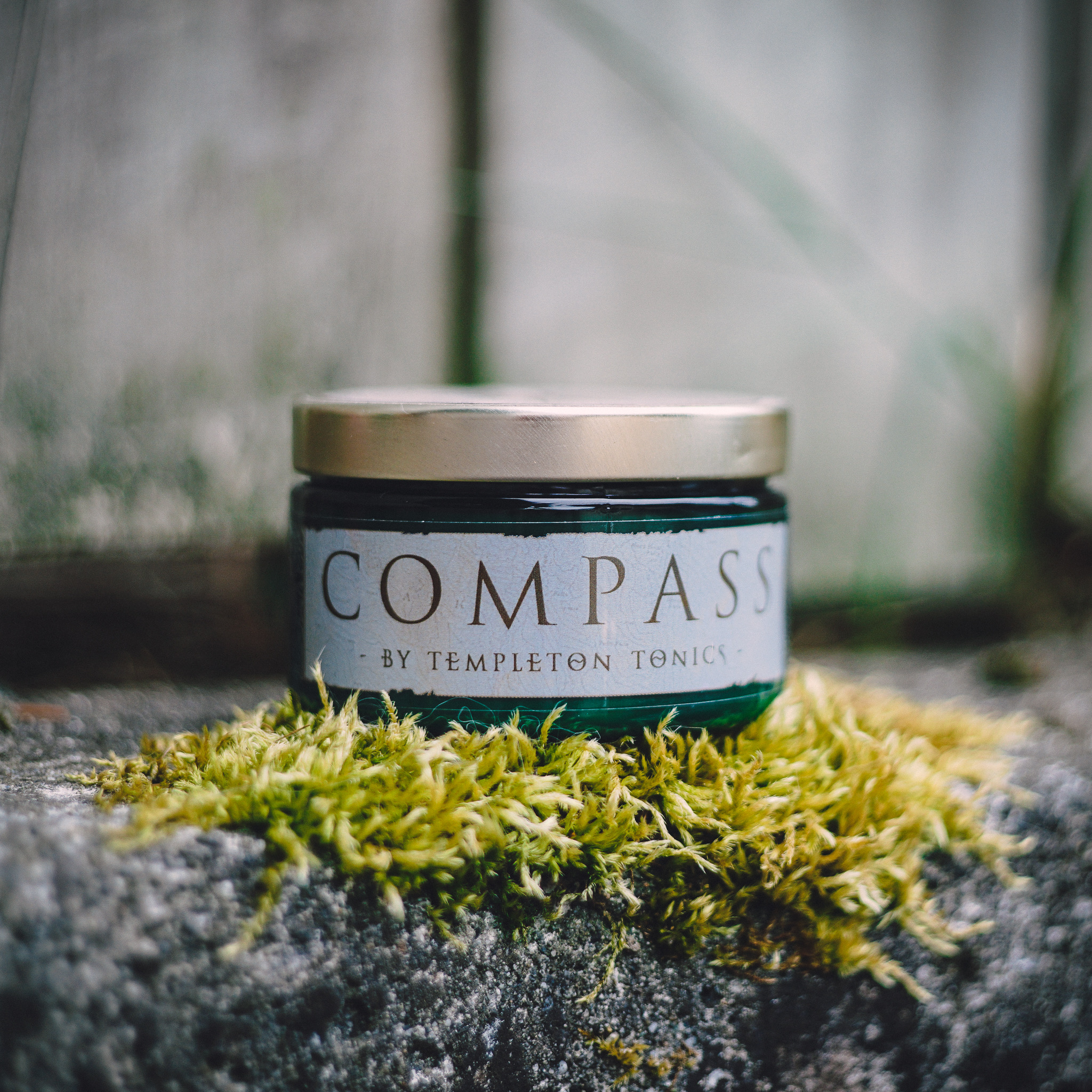 Compass Pomade
Compass Pomade is perfect for working with your hair, not against it. It's a slick, medium hold unorthodox water-based pomade, and is designed to stay workable throughout the day without drying or firming up. 4 ounces
sold out
Ingredients
Water, Jojoba Oil, Meadowfoam Seed Oil, Beeswax, Emulsifying Wax, Shea Butter, Essential/Fragrance Oils, Candelilla Wax, Soy Wax, Liquid Germall Plus
Oils like Jojoba and Meadowfoam Seed are some of the closest oils in composition to your hair's natural sebum, and quickly absorb into the hair so they can get to work at keeping things moisturized. Beeswax and Candelilla Wax create a protective shield that shelters the hair from the elements and seals moisture in. Shea Butter is rich with essential vitamins for healthy hair, and gives the product a nice buttery breakdown.
Scent Descriptions
Trailhead:
Cedarwood, Fir Needle, Sage, Oakmoss, and Fern.
The crisp spice of the cedarwood is balanced by the clean sweetness of silver fir. The slightly powdery scent of oakmoss are accompanied by the sharp herbal notes of sage and damp fern. This is the Templeton Tonics' signature scent for a reason. Give it a try!
Voyage:
West Indies Bay, Sweet Orange, Cedarwood, Clove, Nutmeg, and Aquatic Notes.
This scent conjures up thoughts of grand adventures on the high seas. You are a merchant on a cedar ship on the Atlantic Ocean. As the sea tosses your ship about, the salty spray graces your face and leaves your hair soft. A glass of sweet, spiced rum garnished with an orange slides in your hand, you look at the rolling waves with eager anticipation for what's next.
Nomad:
Spiced Vanilla, Oud, Sandalwood, Ambrette Musk, and Incense Notes.
Nomad is the newest addition to my lineup of personally made fragrances. It conjures up dreams of somewhere exotic and somewhat magical. The sharp notes of spiced vanilla waft through the air, mingling with the haze of incensed cedar and myrrh. Balsamic notes of oud and sandalwood form a fine, aged woods base, and are mellowed out by the sweet musk of ambrette. Unique and welcoming, Nomad is a fragrance I'm very proud of.
Vagabond:
Tobacco, Cedarwood, Spiced Vanilla, Black Pepper, Benzoin Resin, and Cocoa Absolute.
Vagabond is my recreation of smoky memories from a visit to a tobacco shop in Monterey, California. The scent of aromatic pipe tobacco and spicy cigar smoke drifts across the hard wood interior of the shop. Sweet, spicy, dark, and warm, this is a perfect scent for the colder months of the year.
Aeventus:
Bergamot, Black Currant, Pineapple, Apple, Smoked Birch, Patchouli, Jasmine, Musk, Oakmoss, Ambergris, and Vanilla.
Inspired by a legendary and complex cologne, Aeventus is a sophisticated, fresh, fruity, and slightly smokey scent that is sure to turn heads and get you compliments.